Welcome ladies and gentlemen to another Developer Insight blog. As the engine upgrade is finally nearing completion after weeks of hard work, we'll be talking about our plans for the upcoming BETA! You should definitely continue reading onwards if you're interested in participating in testing.
Providing the community with access to our in-house development tools has certainly been a good step forward! Development on the Prussians, building destruction, interactable doors, more maps and the new spawn menu user interface is also ongoing.
Here are more details on what the team has been up to.
Andreas 'Dreas' Grech - Lead Programmer
One of the most time-consuming updates Dreas has embarked on to date will be done relatively soon! Holdfast: Nations At War's game engine will be receiving a year's worth of game engine updates when it's upgraded from Unity 5.6 to Unity 2017.
All of this is being done with the primary objective to improve upon melee combat. We'll also be able to utilise newer and better technologies to increase performance and improve stability thanks to the engine upgrade.
So, what's the next? As you might have already guessed, these unprecedented amounts of changes to the game's increasingly growing codebase will require plenty of testing to squash any potential bugs. We've already started our preliminary testing here in the office but the game supports a whole lot more players per server than our small development team could ever fill up.
As such, we will be looking for the assistance of our great community to help us stress test the servers and ensure a stable full release. If you're interested in participating, be sure to hop in on our Discord. The first BETA of Game Version 0.14 will be out next week! Multiple updates to the BETA branch will follow thereafter with fixes and additional features.
An announcement will be put up on Discord with further details on how to download the BETA version of the game and participate in the tests. These tests will also be a great opportunity for you to provide us with early feedback and we highly encourage that you do so!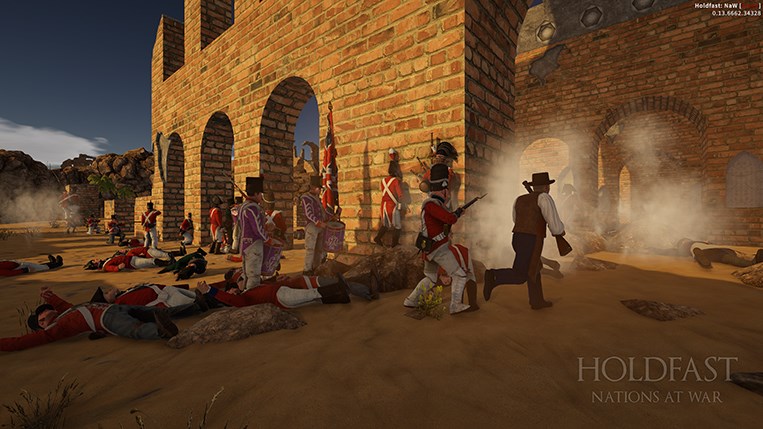 Dylan 'Monroy' Vassallo - Programmer
One of the very first things that a player sees when they first opt into the game is the spawn menu user interface. During the past few weeks, Monroy has been working on implementing a new interface which is now in its polishing phase.
After the first implementation of the interface was done, we started looking for feedback from our community and one particular issue came up. This was that it was inconvenient for players to switch from one spawn to another since it was split into two different screens.
So, we then went back to the drawing board and came up with a concept which combines both selecting a spawn point as well as your desired class into one screen. Here's a look at the User Interface. You'll also be able to check this interface out in the upcoming BETA.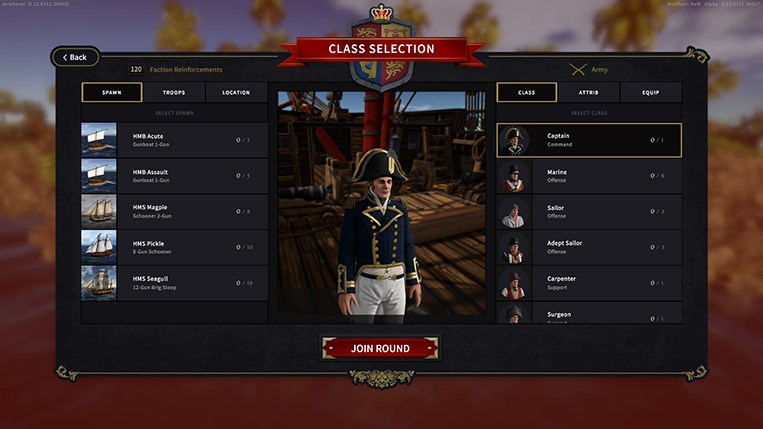 Some of you might have already noticed from the screenshot that we're now assigning a randomised set of names to every naval vessel. This will certainly make things easier for everyone to join a ship along with their crewmates.
Monroy has also been busy with other matters. In the upcoming BETA, doors will be interactable. In order to add some strategic element to this, we will also be restricting the functionality to open a door based on if your faction is controlling a capture point in the vicinity of the door object for the Army Conquest, Army Siege and Coastal Siege game modes.
Doors will also be made destructible by melee weapons before Game Version 0.14 is out of BETA.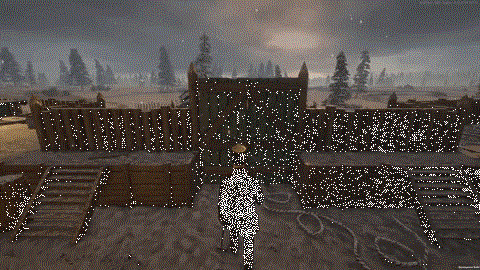 Julian 'Rycon' Farrugia - Lead 3D Artist
He's been coordinating with Monroy to integrate the new interactable door functionality in each and every map. You can image how many of these objects we have in the game so it was quite the substantial job. Once that was over and done, he switched back to the Prussians. Here's a look at the Prussian Riflemen in the game!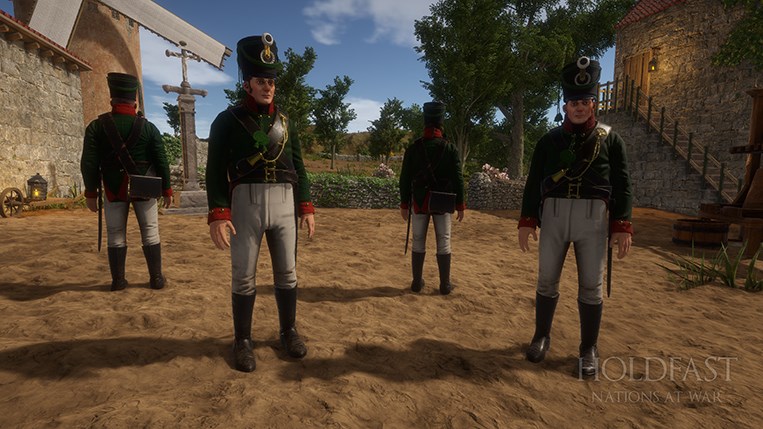 If you'd like to hear more about the Prussians, we have also finalised the voice acting work required to integrate this new faction. Cheers, shouts, insults, acknowledgements and a whole lot more good stuff.
Building destruction. This is yet another task that Rycon has been working on. You'll be able to tear down walls, houses and other buildings by pouring round shot into them. Buildings will gradually be made destructible as the game develops. Anyway, less talking, more destruction!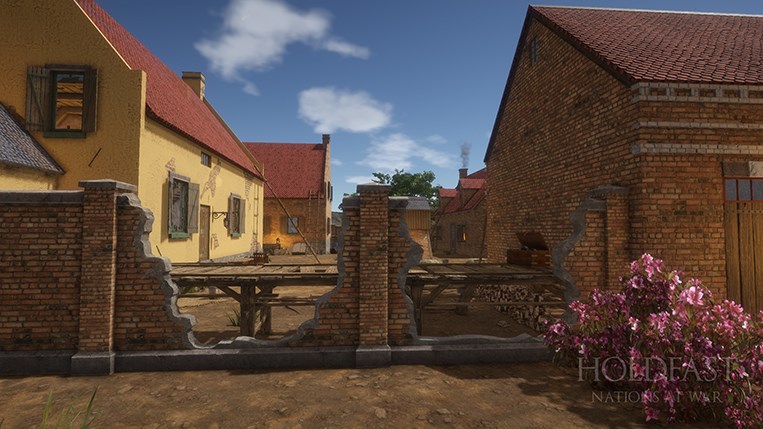 Walentin 'Walki' Lamonos - Level Designer
Walki has been designing a game level centred around the fortification we've shown in our previous blog post. The fort itself will be situated on a hilltop in a mountainous location. There's been plenty of progress done on the map but he would like to add more detail to its surrounding areas before showing it off.
By The Community - Spotlight & Creations
There's always a great need for a good line battle map. Pierre from the 59th Regiment of Foot is one of the good fellows who decided to have a go at making maps for the game and we're already seeing the fruits of his labour. Here's a work in progress shot of what he's been doing.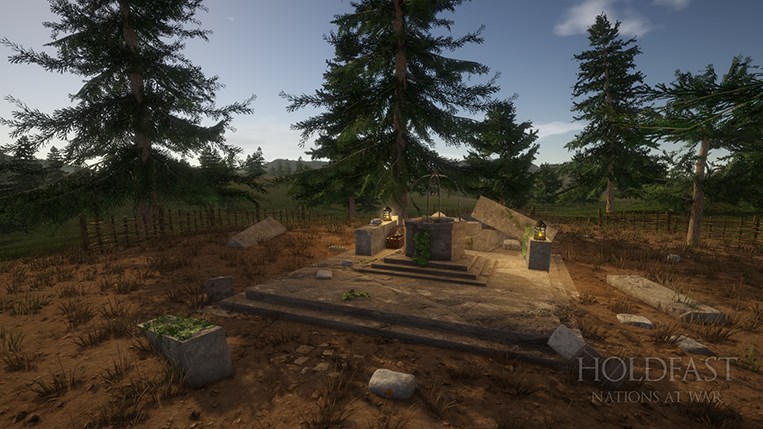 At the enemy, Sir! Before we end this blog post, we'd like to share with you one of our favourite moments from last week's Twitch streams.
Soviet Womble & Digby - View The Twitch Clip
We are extremely grateful for the support that the community has shown for the game! It has been a blast for everyone here in the team during the past few months since our Early Access release.


We'll keep you updated on our progress. May good health be yours.
Discuss this blog post here.

Once again thank you for all of your support from all of us on the Holdfast: NaW team,
- Refleax, Rycon, Dreas, Monroy, Walki, Cameron & Rejenorst
Anvil Game Studios